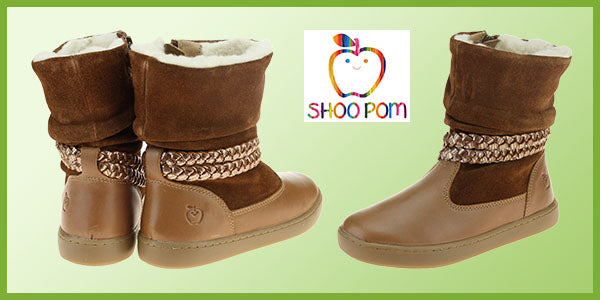 Vegan Shoes
| Rajinder Bains
Here at Ogam Igam we always aim to provide a wide range of styles to suit all of our customers needs. However we came to realise last summer that we were lacking in one area, our range of vegan shoes! With more and more families choosing a vegan lifestyle, it is clear to see the increase of vegan options in our supermarkets and on menus. However, the footwear industry wasn't keeping up and we noticed that there was a shortage of quality vegan footwear available for children. With that in mind, we set out to find brands that offered vegan styles for our next summer collection. We were delighted to discover that two of our established brands, Birkenstock and Shoo Pom, do have a vegan range. We are also new stockists of Veja, and 1 in 4 of their sneaker styles are completely vegan.

First off, let's take a closer look at Birkenstocks vegan offerings. The Birkenstock EVA beach shoes are made from vegan ethylene vinyl acetate. This material is a non-toxic synthetic compound. Their beach shoes are extremely lightweight and flexible, ideal for packing in a suitcase or popping in a rucksack. The kids styles are perfect for rock pool exploring and river wading. The famous Birkenstock footbed means this beach shoe still offers the ultimate comfort with arch support and a heel cup that keeps the heel securely in place. The toes spread out in their natural position thanks to the toe grip at the front of the footbed. We have the EVA sandals available in adults styles Arizona and Gizeh with children's sizes in stock too.

Birkenstock have also re-imagined some of their classic adults designs using vegan materials. The uppers are all Birko Flor, a hard wearing synthetic material. The leather insoles have been replaced with soft and breathable microfiber. We have gorgeous colours available in our adults vegan range, in Mayari and Gizeh we have blues, yellows and pinks which will look beautiful on summer days.

Our brand new Veja sneakers also have a great vegan range. As an ethical and sustainable brand, Veja are committed to making vegan styles in such a way that minimises environmental damage. They use C.W.L (corn waste laminate) as a leather alternative, a material composed of cotton coated with PU and resin from the corn waste industry. These classic white sneakers with minimalist designs are a perfect transitional style for boys and girls.

Lastly we were thrilled to find out that Shoo Pom has also developed a vegan range for this summer season. A firm favourite for us, this super cute French brand have the sweetest designs. They have used microfiber as the leather alternative for the vegan summer shoes and sandals. This means the uppers are water resistant and the lining is 100% breathable, with a greater absorption capacity than leather! The vegan sandals from Shoo Pom are Goa Scratch Veg for boys and Goa Spart Veg available for girls, and an adorable unisex first shoe Bouba Veg.

We are so happy that we are able to offer this range of vegan shoes to our customers and hope that over the next few seasons our collection will continue to grow.