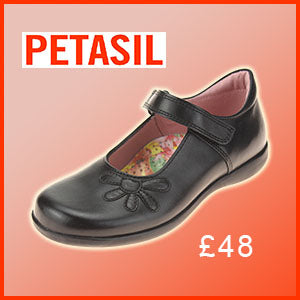 Trickier fit – School shoes for insoles, narrow and wide feet
| Rajinder Bains
Do you prefer to meticulous plan ahead or enjoy the thrill of a last-minute dash to the shops? Our customers at Ogam Igam are a fantastic blend of both. We have plenty of stock and trained staff in the shop throughout the summer holidays to help you pick out the best school shoes for your child. Some feet however can be trickier to fit that others, narrow or wide feet, very small or larger feet and insoles are just a handful of examples. A good stock selection and plenty of fitting time are preferable to ensure an easy fitting for more challenging feet. We recommend coming to see us in the first two weeks of August, so we can provide you with the best fit whatever your child's school shoe needs.
But if the end of summer has crept up on you, don't worry! We've created a mini guide of our favourite styles to help you find the right school shoe for your child.Best for … Narrow feet
We carry a number of school shoe brands and styles in a range of size widths. Width fittings E and F are at the narrower end of fittings, so we have shoes to suit. Look out for styles that taper in at the heel as this will provide security for narrow ankles. Likewise, generous straps such as a Mary Jane or double strap Velcro styles will help secure the foot.
For boys, our best school shoe for narrow feet is the Geox Savage. The shoe comes up high to the ankle providing great support and securing the foot comfortably in the shoe. Additionally, we stock Start-rite boys' shoes in an E width fittings and all styles come with two Velcro straps so the shoe can be adjusted if needed.
For girls in addition to stocking both Start-rite and Clarks school shoes in E width fittings, we also have Bonnie from Petasil in both E and F fits. The classic smooth leather girls shoe sports a tapered heel cup and narrow toe box to fit delicate feet. For older girls, a lace up brogue style such as the Clarks SeleyCool or Start-rite Pin Brogue are great for narrower feet.
Best for … Wider feet
Wider feet need generous shoes with room for additional width growth. The Geox Artach fits with plenty of width and features a rubber toe bumper with a serrated sole for durability. For a sleeker boys' shoes that still offer great width look to the Italian brand Primigi for continental styling in soft leathers. For girls, Lelli Kelly school shoes have generous widths, with their G width fittings happily accommodating a H fitting. Older girls with wider feet should steer clear of pointed or narrow almond toe style shoes that may pinch at their toes. Instead a G or H fitting brogue style will give the feet plenty of room.
Best for … Larger feet
We stock a number of school shoe styles up to a UK size 8 (or an EU 41) to cater for those with larger feet. Clarks and Geox are our go to brands for both boys and girls school shoes in these sizes. Shoes specially designed for children's school wear are preferable to adults' shoes. Children's school shoes have been designed with the wearers in mind, they'll have the durability to cope with play and fit with room for growing feet. Adults' shoes on the other hand may be made out of more delicate materials resulting in more frequent shoe replacements. Check on our website or phone ahead to check our sizing stock.
Best for … Orthotic insoles
Orthotic insoles are important to help correct any issues with the feet and help children to develop healthy feet and posture. Shoes will therefore need space for both the insoles, your child's foot and growing room. When looking for school shoes that will accommodate insoles, look for styles with good 'depth' at the heel. What is meant by this is the back of the shoe requires enough height to house the insole without pushing the foot out of shoe. Likewise, insoles can push the foot forward in the shoe, towards to the toe box, and for this reason we may fit shoes half a size bigger than as measured. Although insoles may reduce the selection of shoes that will give an excellent fit, we still have a fantastic style range to choose from.
Start-rite shoes are built with deep structured backs that are perfect for accommodating insoles. For boys our new season Extreme Pri have great rubber bumper and a cushioned collar in addition to great structure. For girls, the Start-rite Samba is a classic Mary Jane style in smooth leather with a high vamp that gives the foot plenty of room if it insole-shifts the foot forward.
Even if your back to school shopping has ended up a bit last minute we have plenty of staff (and shoes!) to measure and fit your child's feet throughout August into early September whatever your needs. Additionally, you can shop from the comfort of your sun lounger on our website, with free 1st class shipping for customers that subscribe to our newsletter.