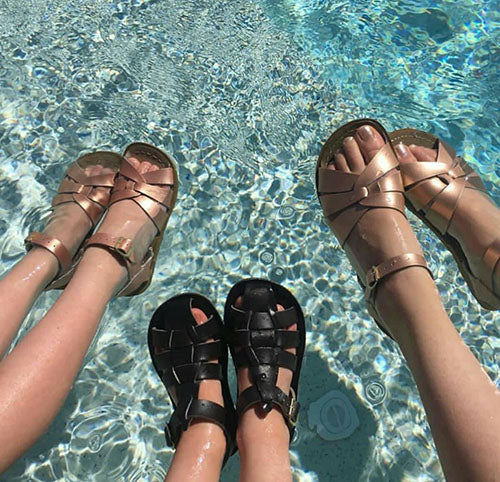 Spotlight on summer sandals
| Rajinder Bains
The beautiful May Day Bank Holiday signalled that summer is just around the corner. Despite the odd grey day, it's hard to shake the anticipation of sunshine holidays and blue skies. Whether you're staying in the UK for your well-earned summer break or heading off to more exotic climes, here at Ogam Igam we have the perfect selection of shoes and sandals to kit out your kids in preparation for your summer escape.
Best for… Everyday Lux.
Whoever said beautiful shoes need to be reserved for special occasions hadn't seen our range of durable, practical yet chic summer shoes. Starting with the French brand Shoo Pom, crafted from premium leather and quality fabrics, this brand has mastered the bringing the best of both worlds to a sandal – style and substance. The 'Goa Salome' sandal is a text book example; glam metallic leather uppers are paired with a generous padded sole and straps for comfort and durability. For boys, their 'Goa Boy Scratch' style features classic continental styling in deep blue leather with an all leather insole.
Best for… Splashing around.
If your pool bound or seaside ahoy this summer, then look no further than our water-friendly selections. Starting off with our Birkenstock EVA sandals that combine the traditional Birkenstock aesthetic in a durable, flexible but waterproof shoe. Made from EVA, a light weight polymer, the sandals retain the brand's signature molded foot bed with added arch support but offer the flexibility of water wear. This season we have a cobalt blue and a hot pink colour that can be worn with both swimwear and summer shorts.
If a truly amphibious shoe is what you require then Geox have your pair. Our Geox Waders are a fantastic water-friendly sandal with closed in toes, perfect for beach walks and are constructed from a lightweight upper with perforations to allow breathability. Clarks' offering for a water active shoe is their 'Surfing Coast' boys sandal with double rip tape fastenings for the perfect fit.
Or have the best of both worlds!
Salt-Water has been a cult brand in American since the 1940's, and at Ogam Igam we can see why. Their sandals are made from leather coated in a water-resistant sealant that moulds perfectly to the feet with wear. All styles offer buckles straps that allow full adjustment, ideal for growing feet. These summer sandals can be worn in both wet and dry conditions, so you can get the most out of your purchase. Check out the cute Seawee double buckle style for the littlest toes, moving up to the 'Classic Originals' and 'Shark' styles for the bigger kids.
For the perfect coordinated summer outfit, try a spot of mini-me styling. Many of the Salt-Water children's styles come in women's sizes and offer the same waterproof leather and durable soles as their miniature counterparts. But grab them quick, they are flying out of our Penarth store.
Best for… weddings, parties and summer soirees.
If your little girl has got an eye for sparkle, then our Lelli Kelly collection will satisfy her magpie heart! The selection has both summer sandals and classic Mary Janes all in a range of pretty pastel colours with hand stitched beading. The 'Mia Multi Fantasia' sandal is a highlight, with a crackled gold background and cute heart detailing. For those wanting the fun styling of Lelli Kelly but in a more all-weather shoe, look to the 'Hearts Multi Glitter Trainer' featuring double rip-tape straps and a padded collar.
But the real WOW shoe of the season comes courtesy of the Danish heritage brand Angulus. Their embroidered sandal is a standout special, smooth bright coral leather is punctuated with floral embroidery and finished with the brand's signature crepe sole. Designed in Denmark, the shoes are then handmade in Portugal using premium leathers. The quality style is continued in their 'Closed Toe Navy Sandal' for boys which echoes the Scandinavian styling of the brand.
Best for… tiny toes.
If your child is developing into a confident walker, but not quite there yet, a closed toe sandal might be the shoe you're looking for. Bobux have created a range designed specifically for this age group, their i-Walk shoes have been developed to accommodate the unique foot shape of growing child. Made from all leather uppers and insoles we offer a bright range of styles, the Bobux 'Jump' comes in a gorgeous raspberry pink leather with a closed toe front and a single ankle strap. Also, from the brand is the 'Jack and Jill' shoe, available in both cherry red and navy leather. It sports all the features of a classic Velcro strap shoe but with added cut out detailing to allow ventilation on hot days.
Whatever your requirements for a super summer sandal, at Ogam Igam we believe we have the shoe for you. Pop into our Penarth store for free fitting and expert advice or browse our online store at a time of your choosing.
Happy holidays,
Ogam Igam.