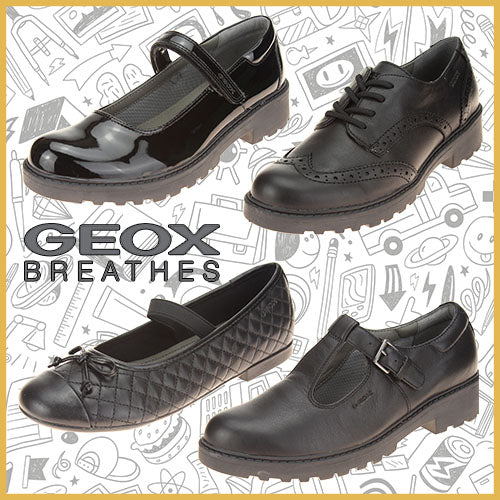 Spotlight on School Shoes
| Rajinder Bains
When you think of the everyday, all-weather rough 'n' tumble school shoes must withstand, it makes sense to choose a pair that will last the course. 'There may be cheaper styles available on the high street but it does pay to buy a quality school shoe,' says Ogam Igam's shop manager Tara. 'And we have a great choice of styles and widths.'
So why spend on quality school shoes?
Constructed with double-stitched layers of good leather, a well-made shoe is durable and offers arch support. With padded tongues and shock-absorbing heels, it also has breathable and antibacterial soles to promote coolness and hygiene as well as that all-important comfort during the demanding days that school feet are on the go. Add to that a proper fitting session in the shop – or phone and email advice if you're buying online – and you can be confident your children's feet are receiving the best possible treatment.
'Unlike some chains, we spend as long as it takes to fit a shoe,' says Tara. 'If coming to the shop isn't practicable, we offer advice to online customers, with free shipping, the opportunity to try the shoes at home, and easy returns. Our trained fitters offer individual care, and are skilled at assessing the whole fit – not just the toe space. We can spot potential problems with regard to rubbing ankles and heels, tightness and arch support. Always wear the shoes at home after purchase. Walk about indoors for half-an-hour to check the fit, and for rubbing. If they haven't been worn outside they can be returned.'
A good school shoe starts at around £35 for styles from brands such as Primigi and Clarks. From the moment the children break up for summer on July 20, we'll be fitting next term's shoes. Come early and you'll have the best choice of sizes and styles! Designs include smart and trainer styles, brogues, Mary Janes, sparkly, and lace-ups. We also do larger sizes – up to size 9 for boys and 8 for girls (and then it goes into the adult range). This year we've introduced the Scandinavian brand, Angulus, which is high-end quality, with a distinctive look.
'All shoes are showcased online so you can browse before coming in the shop,' says Tara. 'Our customers also come from further afield – from Swansea to Abergavenny, as well as the Valleys. We have those who are visiting the area, who know about us, from the likes of Singapore, Australia and Abu Dhabi. They don't have a shop like this near where they live and they come to stock up.'
'We're busy from the moment school breaks up, but not manic until the second week in August and then it really takes off!' With shelves of black shoes, Ogam Igam may not look as colourful and pretty as usual but there are hidden surprises with many 'Back to School' shoes coming with a gift. This year, Ogam Igam are offering our own gift – spend more than £30 on school shoes and (whilst stocks last) you'll receive a free gym bag in yellow or blue.
'Every year', says Tara, 'young customers follow the same pattern, Girls want what they have seen in adverts or the same as their friends, and boys don't care as much what they have' – though an increasing favourite with primary-aged boys is the Geox Savage. 'It's by far the best seller and is incredibly durable,' says Tara. 'It fits like a shoe and acts like a trainer. The kids like it because it looks like a trainer and Mums like it because it is built like a school shoe complete with a leather insole.'
With up-to-date knowledge of local schools' preferences in footwear, Ogam Igam is able to advise on which styles will receive full marks. Most secondary schools require boys to wear a smart shoe such as the lace-up Theo from Start-rite's Rhino range. Brogues and slip-ons also feature in the Rhino range for older children. For younger girls, our best-selling school style is Lelli Kelly's Perrie – Parents love its smart appearance and durable patent leather, girls like the gift too. 'Start-rite are quite classic,' says Tara. 'Clarks are more fashion-led, with the Bootleg range for older children. Their girls' shoes have a thinner sole and look more like a ballet pump, with a thinner strap, and can be worn from, say, age nine to sixth form.'
'All our shoes are featured online. You can see them before you come in, and if you can't get to the shop for a fitting, we're ready to offer advice by phone or email and talk you through everything.' 'We're a one-stop shop for school shoes – we have the styles, the widths, and the fitting experience. Come to us – you don't need to go anywhere else!'