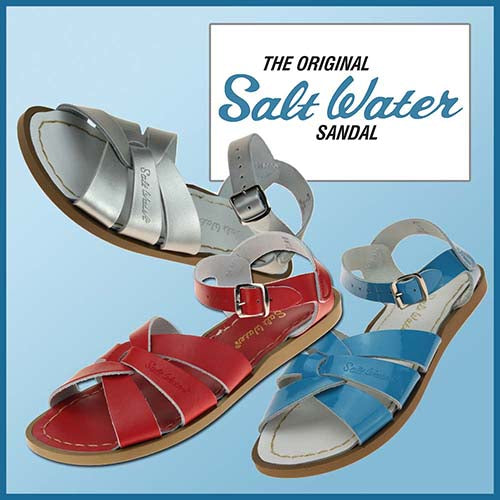 Sensational Salt-Water Sandals!
| Rajinder Bains
With summer well and truly under way, now is the time to let your kids' feet breathe and there's no better way to do this than in Salt-Water Sandals!
Salt-Water Sandals were originally created by American, Walter Hoy, during World War II using the scrap leather left over from making military boots. People were so enamoured by these fashion savvy sandals that they soon started asking Walter to make them for their own kids. And so, in the 1940s, Salt-Water Sandals were born.
70 years on and defined by their carefully little-way stitched rubber soles and classically crafted leather upper, Salt-Water Sandals are robust enough to cope with the sandiest of beaches and are surf proof too, meaning your little angels can enjoy a refreshing splash about in rockpools or along the shoreline without putting these leather lovelies at risk! Rust proof buckles keep these sandals in tip-top condition and they can even be put through the washing machine on a cool wash to keep them looking and feeling as good as new.
Here at Ogam Igam, we stock both Salt-Water Originals and the Sun-San range. These multi-award winning sandals come in a variety of colours from traditional cores such as tan and black to summer brights like fuchsia pink patent and turquoise to metallics including silver and gold.
Classic open toe and open heels, cute shiny finishes with pretty heart cut-outs and scalloped edges and mini versions with extra flex ideal for youngsters – there's something to suit everyone. We've even got them to fit mum too!
So, as there's still plenty of summer sunshine left to enjoy this year, pop on down to Ogam Igam to get yourself or your little one a pair of these undeniably comfortable sandals and enjoy the rest of the summer.