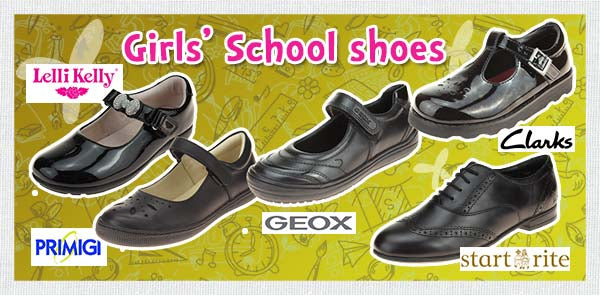 Girls' school shoes
| Rajinder Bains
The summer holidays are approaching fast. Sun, sea and summer holidays are coming up quick, but before your hit the beach, don't forget to get ahead of the curve and sort out the school shoes ready for September.
There are a few considerations to bear in mind before choosing a school shoe. Material, construction, shoe style and the all-important fit. Luckily here at Ogam Igam we stock a wide range of styles and brands to fit a range of requirements and fittings. Here are a few recommendations from our new 2018 'back to school' stock to help you choose.
Best for … durability
School shoes work hard. With all day wear including break times and plenty of walking, it's wise to choose a shoe that can master it all. For younger girls a protective toe bumper can prevent many scraps and scuffs, allowing shoes to look great for longer. We have a number of shoes that feature a toe bumper – the Froddo Black Mary Jane style combines the durability of a generous rubber sole unit with cute brogue styling. Likewise, Geox a brand well versed in creating durable and functional shoes, has two shoe styles that feature rubber toe protection. The Gioia girls school shoe has a single rip tape Mary Jane strap and whimsical stich detailing. The Hadriel styling is more clean and sporty, perfect for practical girls.
Best for … super soft materials
As school shoes need provide all day wear, comfort is of paramount consideration for us here at the shop. For different children, this can mean different things. For those that favor super soft shoes, look no further than the Primigi 23794 Black Mary Jane shoe. The minimalist and classic shoe is constructed from buttery soft black leather which moulds to your child's foot with wear.
Best for … a wider fit
For children with wider proportioned feet, many brands provide styles in a range of width fittings. Start-rite is one if these brands, producing a range of styles with width fittings from E to H. Two shoes are particularly worthy of note for the wider foot, their Poppy style features a T-bar and wide toe box with delicate patent detailing. Additionally, the Start-rite Samba has a more traditional look with a smooth leather upper and Mary Jane strap. It features a deep heel cup and generous width, making it our go to for a tricky fit.
Best for … a patent shoe
Patent leather offers carefree upkeep, with a simple wipe down the shoe can look as good as new. Lelli Kelly is a brand that has mastered black patent school shoes, year on year it brings out a range of styles in two width fittings so there is a shoe for most tastes and fits. New this year the Lelli Kelly Begonia features interchange bow decorations on the toe box, perfect for girls that like to change up their look. Likewise, Colourissima comes with interchangeable straps, one with a removable star motif that can been coloured in and decorated. All Lelli Kelly's school shoes are leather lined with a padded leather foot bed and have a flexible black outsole with good grip, so if you're looking for the convenience of patent leather but with more classic styling, look towards their Classic Girls patent school shoe.
Best for … traditional styling
For a timeless, classic shoe the Bonnie style from Petasil has a smooth leather upper and subtle flower stitch detailing. The all leather insole, with contoured support, has as a colourful flower pattern to add interest and a pop of fun. For older girls, the Geox Agata Loafer sports the traditional slip on style with a penny loafer slot detail and block heel. Classic yet chic!
Best for … all rounder
Feeling a little overwhelmed by the choice? Look to our star all-rounder, the Primigi PTF 24323. Available in a range of uppers, with patent and smooth leather, and without or without glitter toe detailing. The shoe has an all leather upper and inner sole, a single Mary Jane style strap and a generous toe bumper. A great versatile style!
We are confident that we have a school shoe to suit every child's need. Have a browse on our website or pop into our Penarth store. We have school shoes for all!