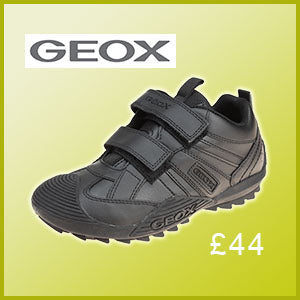 First School Shoes
| Rajinder Bains
Helping to choose a child's first pair of school shoes are some of the most exciting fittings at our Penarth shop. It's fantastic to see our smallest customers take their first steps into learning, all kitted out in their brand-new uniforms for the first time. But the new adventures ahead of them require new shoes to match!
For children with their fast-growing feet, great fit is imperative to support healthy foot development. As school shoes are worn for long periods we look to styles that are properly constructed out of high quality materials and provide an excellent fit to make sure we help keep your child's feet healthy as they transition into long school days.
Alongside a great fit there are a few additional considerations when purchasing your child's first school shoes. Younger children naturally tend to be tougher on their shoes – think energetic playtime, football and sitting on hard assembly floors. To help shoes look presentable for longer choose styles with a 'rubber toe bumper', a lip of the sole unit that curls over the shoe's toe box to help prevent scuffs and scratches.
Also, to further support the transition into formal school shoes from more casual styles, look out for super soft materials that will support the foot but still remain tactile and comfortable to sensitive feet. Here are a few of our top picks from our new in back to school stock to help guide the purchase of your little one's first school shoes.
Best for … Durability
Rubber bumpers can protect shoes from all sorts of tough wear. For young girls the Primigi PTF 24323 comes in both smooth and patent leathers and both variations feature a rubber toe bumper. For rough and tumble lads, Geox is a great brand for durable shoes. The Geox Savage is a shop stable, with a generous serrated rubber sole unit and durable leather that fits up around the ankle making it a definite contender for our most durable school shoe. Likewise, the Geox Riddock has a well-proportioned sole unit but sits on top of a sleeker looking smooth leather shoe.
Best for … Super soft materials
The Italian brand Primigi is our best pick for soft leathers. The Primigi 23794 style is a classic girls Mary Jane school shoe in smooth black leather. It's all leather insole is superbly soft, perfect for those new to school shoes. For the boys the Primigi PSB 24247, which is a new style to us this season, combines soft leathers with a durable rubber sole and toe bumper, giving you the best of both worlds!
Best for … a wider fit
It's important to consider not only the shoe length but also the width when looking for great fitting shoes. Clarks LilfolkBud Inf and the LilfolkZoo Inf styles are just some of the brand's school shoes that we stock in a range of width fittings, including the widest H fit. LilfolkZoo Inf is a traditional double rip tape strap black leather shoe featuring Clarks' unique Air Spring FX technology and Agion linings to help little feet stay fresh during long school hours. Likewise, the LilfolkBud Inf has all the essentials for a fantastic first girls school shoe: a simple rip tap strap, a rubber bumper and a cushioned insole and collar. Additionally, for girls requiring a wider width fitting, the Start-rite Daisy May school shoe features a T-bar fastening that is great for those with a high instep.
Best for … tiny toes
For children with the smallest feet, but still requiring sturdy shoes, we've got a number of styles that run down into smaller sizes. Our Clarks girls school shoes, like the Mini Sky Black School Shoe, start at a UK7. Whilst a number of our Start-rite styles begin at a size UK6. For boys, the Clark's Mini Racer school shoes starts at a UK7 and is a classic minimal style that won't look clunky on smaller feet.
Best for … budding fashionistas!
For those that like to dress up a little and wear something a bit special on their feet, we've got a few stand out styles to suit. For little lads that like to dress up and look super smart, the Geox William style is perfect. Made from smooth leather, the shoe features a single rip tape strap and chunky sole. For girls wanting stand out shoes, look no further than Lelli Kelly! This season we have the Begonia, with a choice of interchangeable toe clips and the Colourissima, complete with colour-in star or heart strap detailing.
For fantastic first school shoes, we've got a great range to suit a variety of needs. For an excellent fit for comfortable shoes that will see them through long school days, come and visit us in our Penarth store for fitting, measurement and expert advice.