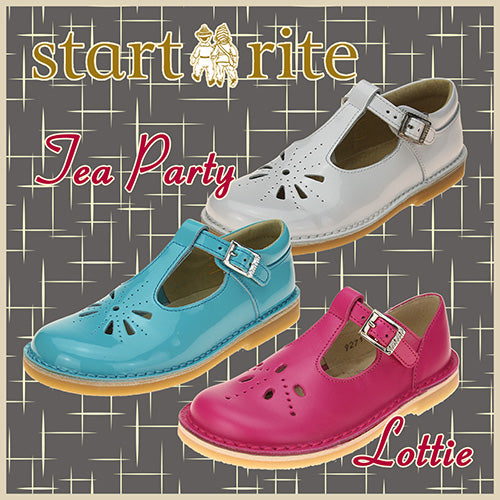 Buckle Up for a Royal Retro Look
| Rajinder Bains
In this age of fast, throwaway fashion, who'd have thought the traditional kids' T-bar would make such a comeback?
Like Silver Cross prams and velvet-collared coats, the T-bar sandal suggests a bygone era of red pillar boxes, picnic hampers, and Milly-Molly-Mandy, but – as we've discovered – its firm footing in our childhood is far from forgotten.
The arrival in the shop of Start-rite T-bars – and their close cousin, the Mary Jane – has prompted a wave of nostalgia as the new (and rather lovely) Caty, Lottie, Tamara and Tea Party styles are admired.
'Customers recognise the brand from their childhood,' says shop manager Tara, who remembers her own red pair for school. 'They head straight for them saying "I used to have those when I was little". Then they'll ask "Do you remember these?" and the grandmother might say "I had them too". '
Proud to be hand-picked as a stockist for this highly-selective niche brand, Ogam Igam has seen a rush on the Start-rite T-bars, as worn by little Prince George.
Trend-watcher Tara is laying the increasing popularity of the classic kids' style firmly at the feet of the royal toddler. Since he was pictured in Start-rites, the Jo style has sold out – though they'll be back in store come September in red and navy (£37, sizes 3 to 6 ½) For a more girly take on the winter T-bar, look out for the Diana style in dusky rose, sizes 4 to 1 ½.
'I think Kate Middleton has a lot to answer for,' says Tara. 'There's also this idea that you want your mini-me to have the same shoe you did – and they do look so cute.'
The very definition of adorable, this season's patent Caty Mary Janes come in aqua or pink, with white piping on the cutaway and Velcro fasteners beneath button-effect tops. Part of the brand's Iconic Classics range, the retro packaging is as much of a delight as the shoes!
At £52, the attention to detail is impressive – the memorable Start-rite image of two behatted children features in a cutaway on the black rubber sole, as well as being stamped in silver on the all-leather lining (which absorbs moisture and helps keep feet dry). The perfect party shoe, the Caty comes in sizes 4 to 6 ½.
'This patent is excellent quality,' says Tara. 'It will take a lot more scuffing. We've dropped brands in the past because the patent isn't hard-wearing, but like Clarks and Lelli Kelly, the Start-rite patent is good, plus you don't often get a shoe that has leather everywhere. These will last a long time
'Little Princess Charlotte will be walking this year and I'm predicting she'll be in the pink leather Catys.'
Start-rite Mary Janes and T-bars come in an F–fitting, and Tara recommends the T-bar style (Lottie, Tamara and Tea Party) for sturdier feet – it's wider and the more substantial shoe front gives more coverage and prevents 'over-spill'.
Part of the Classics collection, the Lottie style comes in bright pink leather (£54, sizes 7 to 12 ½) with a punched flower pattern to the front and the 'must-have' buckle fastening.
'Buckles are coming back because they look classic,' says Tara. 'Everything used to be Velcro fastening but people want the buckle – they will suffer the buckle for the look.'
Tea Party (£46 to £47, in aqua patent and white patent, sizes 7 to 12 ½) and Tamara (£36 in bright pink and aqua patent, sizes 7 to 12 ½) come with padded ankles for comfort and support and, as Tara points out, the T-bar is very good for a high instep.
Founded in 1792, Start-rite knows what makes a durable shoe. Their T-bar styles have stitch-down soles and a lip around the toes, which acts as a barrier to prevent scuffing to the front. The rubber sole has the appearance of traditional crepe but doesn't wear away so easily, forming a long-lasting base for these timeless treasures.
When one of our staff, a self-confessed hoarder, revealed she'd found her old pair of T-bars in the attic, Tara wanted to know if she could showcase them in the shop window, and why not? This classic style seems deserving of museum status, little heirlooms, to be admired afresh, and worn by each new generation as it treads a path through those precious childhood years.
• In the mood for nostalgia? Here's Lucy Mangan explaining the appeal of Milly-Molly-Mandy, the original T-bar princess.