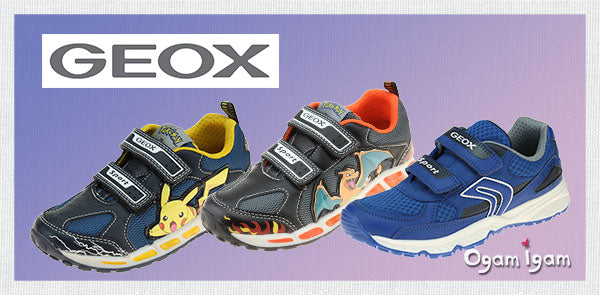 Back to School – Trainers
| Rajinder Bains
Have you got your back to school check list sorted? Along with a new pair of school shoes, we can help you tick off another school essential – a new pair of trainers! As its likely that your child's feet have grown when you're buying their new pair of school shoes, it's a great time to update their trainers too. To make the back to school buy a bit easier for you, we are offering 20% off trainers when bought with school shoes in store*.
It's common for us to fit trainers with a bit more room that a standard fitted shoe. When children are active and exercising their feet need space to move and spread in the shoe to stay comfortable. This having been said, trainers still need to be supportive and too generous a size may impede this. For happy medium of a trainer providing fitted support but with good room, try going half a size larger that your fitted school shoes.
In order to provide you with an excellent fit, we stock a range of different brands. Here are a few of our favorites to help you choose:
Geox Trainers
Geox is superb brand that delivers on both durability and support. All the Geox trainers are complete with 'Geox Breathing System' insole that allows ventilation whilst keeping the feet dry, perfect for active kids. The Geox Shuttle and Bernie styles feature double rip-tape straps, a cushioned insole and padded tongue and collar. They come in a variety of colours making them perfect styles for both boys and girls. Geox has also recently partnered with Pokémon to bring the dependable Geox trainer structure mixed with fantastic Pokémon characters. The brand delivers a great structured shoe that provides support for both casual and sportswear. Additionally, the shoe's deep heel structure makes Geox styles great trainers for children that wear insoles.
Skechers Trainers
Lightweight, breathable and fun – Skechers make fab trainers. We have a myriad of styles from classic block colour uppers to multicoloured metallic trainers with lights! For girls, the Skechers Skech Appeal High Energy trainers bring the best of both worlds. They combine a light grey muted upper with bright accents of pink and corn flower blue. Complete with a flexible light sole unit and an 'Air Cooled Memory Foam' insole, these trainers are a great choice for those that like to look smart and stay comfy.
For boys we also have great choice of styles with both lace up and rip-tape closures. The Skechers Erupters Lava Waves boys' trainers have elastic criss-cross 'laces' and a single rip-tape strap across the foot that keep the shoe secure but are a breeze to get on and off. We stock Sketchers from a junior UK7 all the way up to a senior UK5 in girls and a UK6 in boys, making it a great brand for older children too.
Clarks Trainers
We also stock a number of Clarks trainer styles that come in width fittings. The LuminousRun trainers from the brand's Gloform range come in two colours, navy blue or fuchsia pink, both with bright orange accents. They are secured with thick elastic laces across the foot, making them great for kids on the go. As an added bonus they are machine washable, perfect for playing in muddy school fields!
As you can see, we have a great range of school trainers whatever your preferences are. Whether you need lace up or elastics, softer materials or a strong stable structure, we've got you covered. With the additional bonus of 20% off school trainers when purchased with a pair of school shoes*, it's hard to go wrong! Shop online or come into store for a free measurement and fitting from our friendly staff.
*20% off a pair of trainers when purchased in the same transaction as school shoes. Offer ends 04/09/18. Excludes other offers and promotions.