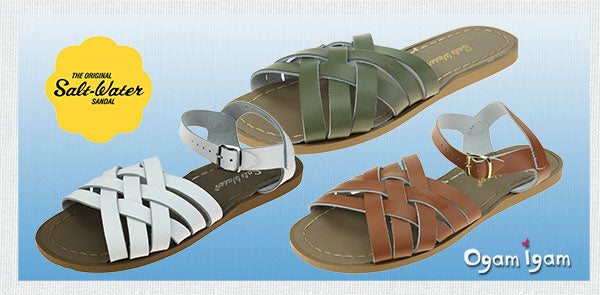 Summer's in the air
| Rajinder Bains
There's that feeling in the air that summer is on its way. The sun is out and so are we, enjoying our beautiful bank holidays in the sunshine. Despite the odd seasonal shower here and there, it looks like the warmer weather is here to stay. Which has got us excited thinking about our summer wardrobe and most importantly new shoes! Our new season stock has got us dreaming of summer holidays and sunny weather, so we've picked you out some of our standout ladies' styles to give you inspiration for the warmer season ahead. 
Here at Ogam Igam you can't say summer without Salt-Water. The American cult brand has been around since the 1940's with dedicated 'Saltie' fans all over the world. It's not hard to see why these shoes have such a loyal following, with durable leather straps that mould to the foot with each wear, their sandals come in an array of beautiful colours meaning that there's a sandal for everyone! A new style to us this season is the Retro sandal with its distinctive criss-cross leather straps and stitched down sole unit. We've got the Retro sandal is three colour ways – a bright white, neutral olive and a classic tan to suit every style. Additionally, back by popular demand is the Salt-Water Original sandal with its scalloped style straps in five different colours providing you with so much styling choice!
On the topic of plenty of choice, we've also expanded our range of another favourite summer brand – Birkenstock. Their double strap Arizona sandals and thong style Gizeh are iconic for both their looks and comfort. But if you're looking for something a little different this summer, check out the Birkenstock Mayari style featuring graceful slim straps that cross over the toes. The style however retains the traditional Birkenstock contoured footbed and suede insole for comfort. But if you like the look of the Birkenstock style but would rather have leather free option, we've got that covered too. We are carrying two styles from the brand's Vegan collection, with no leather nor animal products in either of the designs. The limited-edition sandals have soft synthetic straps lined with microfiber that feel gentle against the skin.
Another ever popular summer brand in our Penarth store is Skechers. With their cushioned footbeds and soft textile uppers we can see why hot and tired summer feet love them. Our staff favourite this season is the sleek 'On the Go Flawless sandal' in navy blue. Knitted supportive straps sit on top of a generous cushioned sole unit that will see you through long summer walks and plenty of holiday adventures.
Whatever you require from your summer sandals this year we've sure we've got something stylish to suit. Browse our summer collection online or pop in and visit us in store. Look out for our next season style guide – children's summer sandals!