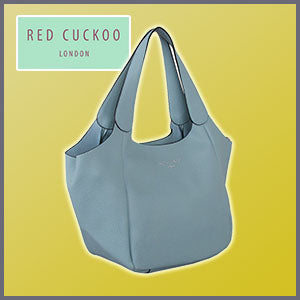 Red Cuckoo handbags
| Rajinder Bains
A new handbag is just the ticket to refreshing your wardrobe, it's the one accessory that can change up any outfit. But its more than just another trinket, handbags are everyday staples and true workhorses of any woman's wardrobe. Some say you can tell a woman's life by the contents of her handbag, so why not upgrade your current style to one of our fantastic Red Cuckoo handbags?
Red Cuckoo is a new up and coming handbag and accessories brand, all their styles are made from vegan friendly PU 'leather', making the bags light and fuss free. We stock a variety of Red Cuckoo handbag styles in seasonal colours, from larger totes perfect for carrying all of your essentials, to small bucket bags that are right on trend this season.
The versatile tote…
Every woman needs a tote bag. It's the perfect versatile style that holds sleek sophistication whilst being truly practical. Our Red Cuckoo tote bags are all year staples, with this season's summer colours being blush pink and a duck-egg blue. The style features slim but sturdy long straps, ideal for being carried over the shoulder or in the crook of the arm. The bag is structured as a single open compartment, with the addition of removeable zip pouch to keep your valuables secure. The minimalist styling continues with a simple silver embossed Red Cuckoo logo on the bag's front.
The cute cross-body bag…
In contrast to the larger tote styles, the cross-body has streamline simplicity. With room for your essentials, a cross-body handbag is a great hands-free choice for women on the go. Coming in a dove grey or a light blue, the classic style is updated with a tasselled bow at the front of the bag. Like with all Red Cuckoo bags, the brand's logo is simply embossed in silver at the bottom of the bag. Your contents in the style are secured with a top zip, so you can feel confident and safe when you're out and about.
The on-the-go backpack…
With space to hold more than just the bare essentials, the Red Cuckoo backpack is a modern essential. The bag features a main compartment with a zip closure, it addition to a convenient front pocket. With adjustable straps and a top handle hook, the bag is comfortable without compromising on style. Our Red Cuckoo backpacks are available in dove grey and a fun burnt orange.
The comfortable hobo bag…
Providing relaxed style, the Red Cuckoo hobo bag is carefree and classic. With a generous top handle strap, the bag sits comfortably over the shoulder. Silver coloured hardware on the handle rings and feet of the bag give it a modern touch. The hobo style comes in a summery lilac or light blue, complete with the subtle Red Cuckoo silver branding. The bag's main compartment is divided into two large spaces, with magnetic closures, by a middle-zipped compartment. A great style for keeping organised whilst looking chic
The double bag wonder!
Can't choose between all our styles? For a little bit of everything, look to the Red Cuckoo double bag. The first bag is a large bucket bag with chunky silver coloured hardware and a thick top handle strap. Fitting neatly inside is another style, a smaller top handle bag with an adjustable over the shoulder or cross body strap. Perfect for travel, these bags together give you all that could be asked of a handbag – a concise style with the security of a zip and a generous hold all tote. The double bag therefore makes a great gift if you're unsure what style of bag the woman in your life needs.
Whatever you require from your handbag, we are confident that we have one that will fit the bill. Come into our Penarth store or browse our selection of Red Cuckoo bags online, we have an ongoing collection of new season styles and colours to keep your style up to date! Perfect for a treat for you or a great gift for someone special.