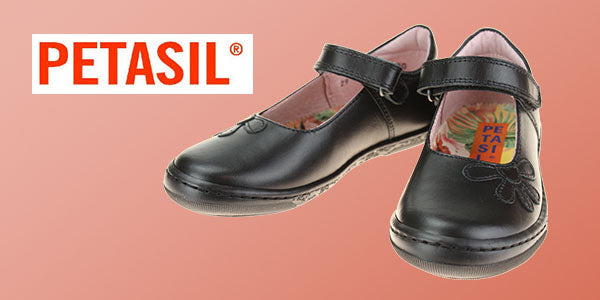 Perfect Petasil Shoes and Boots
| Rajinder Bains
The nights are drawing in and the weather is turning colder – autumn is upon us and winter is on its way. Now is the time to start thinking about kitting your little one's feet out in readiness for kicking through the crispy fallen leaves and trudging across ice hardened terrain on the way to school. At Ogam Igam, we think that Petasil shoes and boots tick all the boxes – they are vibrant, sturdy and fashionable – a must have for autumn/winter 2017.
Let's start with their shoes. Petasil shoes are a great addition to any girl's shoe closet. We stock a range of Petasil's pretty Mary Jane style school shoes in classic soft black leather or black patent leather. Choose from on-trend brogue detailing or intricate stitched flowers on these pretty pink-lined girly 'got-to-haves'. Single riptape straps fasten the shoes securely while a padded ankle collar and contoured insole ensure comfort
Berry pink patent, burnt orange and nautical navy – Petasil's out of school range of shoes for girls is simply exquisite. Built with the same sturdy but flexible feel to them, these shoes will brighten up any autumn/winter outfit and ensure your little one's feet are safe and sound
On to boots – available for both boys and girls, Petasil's range of boots is fun and funky. We've got short and long styles in stock in a range of colours from the rich chocolate brown Kristen for boys to the stunning burgundy-brown Bordo for girls. And don't worry – we still have alternative styles and the ultimate pink Koel boot for all the pink loving princesses out there too.
Whatever your child's look, Petasil shoes and boots are designed with comfort, development and fashion in mind. With something to suit boys and girls, we think these are a top choice this autumn/winter.
Pop on down to Ogam Igam for a closer look or browse our range of Petasil shoes and boots online.