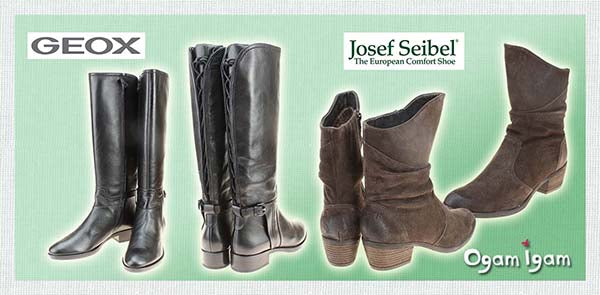 Ogam Igam Christmas Gift Guide – Ladies
| Rajinder Bains
December is finally here; Christmas lights have been turned on up and down the country and our favourite festive tunes are on the radio. Christmas will quickly be upon us! But we've still got a bit of time ahead before the big day, so don't worry if you've still got some Christmas shopping left to do. We think shoes and handbags make excellent gifts to your loved ones – thoughtful presents that upgrade everyday items to useful luxuries. However, women's fashion can be quite daunting, what's in this season? Is it her style? What size? To help take the doubt and stress out of gift giving, we've selected a few of our favourite's gifts for the holidays to make it easier for you.
Best for … the fashion forward woman
For sleek styling, the Geox Felicity boots can't be topped. Their smooth black leather uppers feature minimalist styling details like concealed laces that run up the back of the boots, making them adjustable around the calves. But for a more trend lead gift, Josef Seibel has a selection of comfortable yet stylish Western inspired boots. The Daphne styles feature an almond toe, wood style block heel and an asymmetrical ankle cuff. Their luxurious suede uppers add to the Western inspired silhouette.
Best for … the woman always on the go
Sketchers provide the ultimate in on the go comfort. Memory foam foot beds soothe tired feet and the practical sneaker style provides support. Their modern styling also makes them a great shoe to pair with a whole range of outfits. This season's 'Graceful Get Connect' trainer features a dark navy upper punctuated with pastel pink detailing throughout the shoe, providing a beautiful feminine twist.
Best for…the woman that needs to relax
If the woman in your life needs some TLC and time to put her feet up, our Bedroom Athletics slippers are the perfect antidote to a full-on schedule. Luxurious soft sheepskin line the Lauren slipper boots and provide warmth and supreme comfort when chilling out at home. For the convenience of a slip-on style, the faux fur Kimberly slipper is finished with a velvet bow and diamanté detail. Perfect for relaxing in style!
Best for … the woman who has everything
But if she is a lady that has it all, we have one last trick up our sleeve. Our selection of handbags makes a fantastic addition to anyone's wardrobe. Try a vibrant colour like the Long and Son tote bag in a seasonal burgundy purple or make a real statement in a bright orange. Roomy and practical, perfect for work or weekend use.
We hope our gift guide gives you some hints to buying a truly special Christmas gift. But if you still can't choose, look to our Ogam Igam Gift vouchers. Not only will they get a gorgeous gift but you've giving them the experience of guilt free shopping. It's a win win!
Happy Holidays!