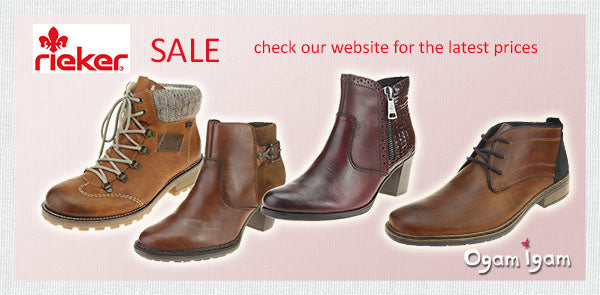 New Year Sales highlights
| Rajinder Bains
Nothing helps usher in the New Year like the post-Christmas Sales. If you've been eyeing up our beautiful selection of shoes and handbags, now's your chance to nab a bargain! And if last year's cold weather is anything to go by, we've clearly got plenty of days left in our winter boots. Treat yourself or your little one to a new pair to see in the New Year with style. Here is a selection of our sale highlights to help guide you.
Rieker makes a gorgeous selection of boots that never compromise on comfort. Update your current casual boots with an on trend industrial style like the Z044424 in distressed tan with a knitted wool ankle cuff. However, if you're looking for a more glam addition to your winter wardrobe try out a heeled style to elevate your look. The Rieker 5529224 ankle boots features a smooth chestnut brown upper with burnished gunmetal hardware. It is finished off with an elegant mid height stacked heel. Also featuring a heel is the brand's Y896535 wine coloured ankle boot. With a contrasting smooth leather front and mock croc heel detail, it brings a modern twist on a winter staple. Rieker's supreme comfort is not limited just to ladies' shoes, we stock a number men's styles too. A classic brown leather shoe is always a smart purchase, the 1084425 brown boot has a contrasting black suede heel panel and black round laces. Timeless and dependable.
For the children in your life Shoo Pom are a fantastic brand that uses beautiful quality leather throughout their striking styles. Our favourite shoe shop standouts have just entered the sale. The Play Apple and its smaller counterparts the Bouba Apple both have midnight blue suede uppers with a fun multi-coloured glitter apple logo on the side of the shoe. The brand's fantastic attention to detail is followed through into the interior of the boots with a all leather insoles. For young lads, or those that like more neutral decoration, the Bouba New Scratch is made from a patchwork of smooth navy, maroon and beige leather making it a great shoe to pair with lots of outfits!
But if you've been looking for a luxious treat for yourself for a little less, we've got that covered too. To help you stay warm whilst relaxing in the New Year we've got a lovely range of slippers from the homegrown Welsh brand Bedroom Athletics. For truly warming styles, look for the Monroe faux fur boots. Its thick lilac faux fur upper and lining are perfect to snuggle up with on cold winter evenings. But if you're looking for a slice of true indulgence, the brand's Lauren slipper boots in luxurious soft sheepskin is just the ticket. And who doesn't love luxury at a discount?
To wrap up our sale guide we've included one more treat for yourself. Our Red Cuckoo bags can instantly update any outfit, great for creating a New Year's new look! Included in our sale is the wine-coloured mini grab bag with an adjustable long strap, providing excellent versatility. For a more classic style, the on-trend wine colour is continued in a small cross body bag with secure top zip, perfect for your 2019 travels.
These are just a few of our Sale gems, to see our whole selection browse online at ogamigam.com or pop into our Penarth store for further assistance from our knowledge team.