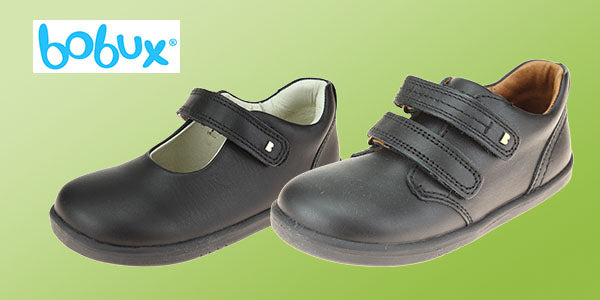 Getting ready for 'Back to School' 2019
| Rajinder Bains
As the age old saying goes "time flies when you're having fun" and never is this sentiment more apt than in the school summer holidays! Where does the time go? We're already two weeks through the holidays and you might be starting to consider preparing for back to school. If you're thinking about school shoes, we understand that the number of brands and styles on offer can be overwhelming. With that in mind we've come up with some school shoe guides to help. Today we are going to introduce you to some of the school shoe brands we stock that you might not be so familiar with.
Bobux
For super soft styles with a focus on promoting child development, look no further than Bobux. We've stocked the brand's casual shoes for a while and love how they fit and wear, so it was a natural decision to start stocking their school shoes. For girls the 'Delight' Mary Jane shoe features classic styling in smooth black leather, whilst for boys the 'Port' shoe has two double rip tape straps on a sturdy sole unit. Both styles have all leather insoles for breathability and comfort.
Primigi
The Italian brand Primigi makes some of our most popular school shoes. It's favoured for its soft leather shoes in classic styles and we've expanded our collection to include some new lines. The 44411 girls Mary Jane school shoe comes in smooth leather or a superb shiny patent, but both sport padded collars and insoles for all day comfort.
Geox
If you want a boys' school shoe that's practical, supportive and durable look no further than the Geox Savage! These trainer style shoes have a smooth black leather upper with a breathable padded lining that helps active feet breathe. The brand also has plenty of fashion forward styles for older girls that remain practical and durable.
Petasil
If you're looking for traditional continental styling in your school shoes, Portuguese shoe maker Petasil is a brand to look out for. Their girls' shoes are styled in both smooth and patent black leather with classic design features such as crepe sole units and supportive T-bars. The 'Donna' Mary Jane school shoe is our stand out style for this year. It has an elegant flower icon on the toe with a raised rubber toe bumper to protect from scuffs and scrapes, perfect for girls on the go.
These are just a handful of shoe school brands we stock. We have many more styles in store and online, it helps us find a school shoe that's both a great fit and practical for your needs. If you'd like more information on any style contact us through email or our social media sites and we'd be more than happy to help.