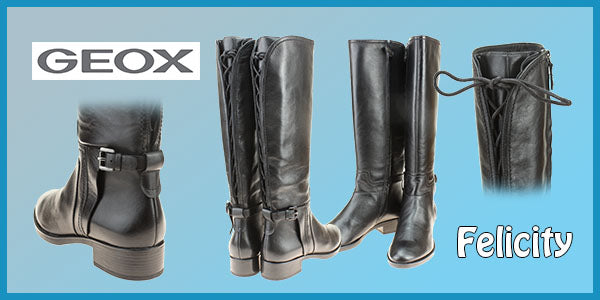 Geox Felicity Knee High Boots etc…
| Rajinder Bains
Winter has signalled its arrival, dark mornings and chilly days leave us reaching for our cosiest clothes. What better way to keep out the cold whilst looking glamorous than a pair of Geox Felicity knee-high boots? All the benefits of stylish warmth with sleek new season styling. Full leg boots are just what you need when you ever faithful ankle boots just can't keep out the cold. Here are some of our stand out favourites from this season's new collection.
For sleek styling, you can't beat the Geox Felicity knee high boots. In a smooth black leather upper with minimal styling details of coordinating stitching and an almond toe, these boots are perfect to pair with a whole range of winter outfits. Running up the back of the boots is a concealed lace detailing, not only does it add a stylish twist, but it makes the boots adjustable around the calves. Great for creating a comfortable shape and providing the best fit.
If you're looking for a pop of colour instead, the Rieker women's tall tan boots might be just the ticket. The knee-high style features a mid-height block heel and a full-length burnished bronze zip detailing in light beige. Similarly to the Geox style, these boots are adjustable around the calves. A rip tape tab detailing ensures the perfect fit around the lower leg to create a sleek silhouette. Pair with blue jeans or coloured tights for a statement look.
The cosy comfort of long styles isn't just limited to ladies' boots, we've got plenty of calf length styles to keep your little girl warm this winter. Heritage Croatian shoe maker Froddo has a number of taller boots, constructed from colourful soft leathers and free from harmful compounds and substances. Their deep beige boots bring the best of continental style with coordinating stitch detailing and a chunky crepe style sole. For those that like more girlish glamour, Italian brand Primigi has a beautiful long boot in a deep purple nubuck with a faux fur trim and metallic star detailing. The boots are also protected with GoreTex technology making the style waterproof. Lastly for a truly standout long length girls' boot, the Shoo Pom Play Freeze style gives the last word on cosy comfort. The boot had a chestnut brown smooth leather upper with suede calf detailing which is contrasted with a thick cream fleece lining, perfect for keeping your little girl's toes warm all winter!
These are just a few of our favourite knee high and long boots from this season. It was a hard pick as we have plenty of gorgeous styles to choose from, whatever you shoe demands. Shop online at your own convenience or come into our Penarth store. Happy shopping!