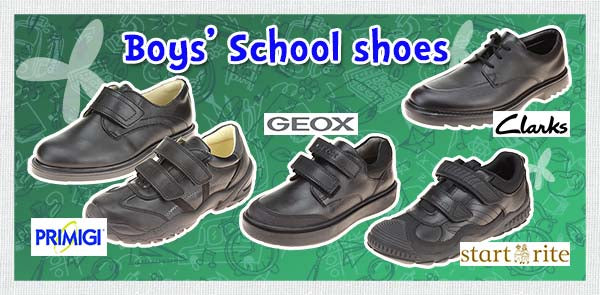 Boys' School Shoes
| Rajinder Bains
We wait all year in anticipation for our summer holidays, seven long weeks of freedom and fun for children all across the country. But every year we're always surprised, doesn't it fly by? To stop the end of the school holidays catching you on the back foot, we've complied a few recommendations from our 'new in' boy's school shoes to help you stay one step ahead of the game.
Best for … durability
For those lads that are heavy on their feet, the Geox Savage school shoe offers fantastic durability. Made from a black leather upper with a leather insole for breathability, it sports a generous rubber sole with a serrated tread that wraps up high onto the toe. It is this extra rubber that protects the shoe from whatever the school day throws at it – running, football and everything else!
Best for … classical styling
If you are looking for a more traditional boys' school shoe, the Primigi POX 24434 will suit perfectly. Featuring a smooth leather upper with a rounded toe and a simple single rip-tape strap closure. The style is completed with a leather insole and a padded ankle collar for comfort. It's simple and a classic.
Best for … a wide foot
For boys that need generous width from their school shoes, we stock two brands that offer a range of width fittings to suit. Both Clarks and Start-rite have shoes in widths E-H but if you're after a more discerning style, the Primigi PSB 24247 fits with plenty of width. Constructed from smooth soft black leather with subtle black stitching, it combines continental styling with good width.
Best for … smart casual
It can be a real challenge tearing kids away from the comfort and familiarity of trainers into super smart school shoes. However, the new Geox Arzach style has made a superb job of blending the best of both worlds. In sleek black leather, the Arzach from afar looks like any other boys' school shoe. But look closely at you'll find a traditional 6-hole lace system with padded tongue and collar providing trainer like comfort on an all-black school shoe.
Best for … formal wear
For older boys who have made the switch into dress style school shoes, we have a great range of smarter styles. The Start-rite Isaac black lace up is a great transition shoe from more hard-wearing Velcro styles to formal shoes with its subtle rubber toe lip to that helps protect against scuffing. The Clarks Rufus Edge style is a fuss-free black lace up shoe with a cushioned ankle collar. For boys that prefer a slip-on school shoe, the Start-rite Tyler and Clarks Wills Lad bring the classic appeal without the hassle of laces.
Best for … all round wear
Looking for a shoe that provides all of the above? We think that our Start-rite Score style has the functionally and durability required of a hard-working school shoe with the comfortable fit you'd expect from the Start-rite brand. Perfect for long days at school and the football theme is spot on for this summer!
Whatever your boy requires from a school shoe, we have all bases covered. Browse our website for the full range of shoes or pop into our Penarth store for a measurement and fitting. Although watch out, we get very busy in August!