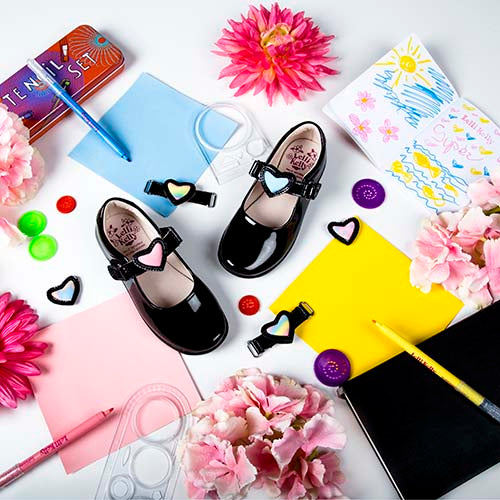 Back to School… Already!
| Rajinder Bains
With only a couple of weeks until school finishes for the summer holidays, now is the time to start thinking about kitting your children out with uniform for the next scholastic year – and that means school shoes too!
By starting early, you'll get first pick of the great ranges, styles and sizes on offer at Ogam Igam, and your kids will be walking away with a big smile on their face and a fantastic pair of school shoes on their feet.
There are so many options when it comes to school shoes – some cheaper and some more expensive – but it pays to invest just a little more rather than try to save. After all, it's these shoes that your kids will spend most time in! And that means they need something sturdy but stylish, something that will withstand the puddles, the scuffs, the hopscotch and the football games.
The build of a school shoe is as important as the look so it's vital to choose a shoe that will do your kids' feet justice. Double-stitched layers of good, strong leather and arch support will ensure that feet are well looked after, while padded tongues, shock-absorbing heels and breathable, antibacterial soles to promote coolness and hygiene all add to the comfort factor.
Each and every child's foot is different so having a proper fitting session in the shop – or phone and email advice if you're buying online – means you can be confident your children's feet are receiving the best possible treatment.
What's 'in' this year?
For younger girls, this year's must haves come from Lelli Kelly – the super cute Colourissima Black Patents complete with 'colour me in' hearts and free felt tip pens, and the ever so sparkly Angel shoes with interchangeable diamante and plain straps, and a free makeup palette for some extra glam. These shoes transform from sensible school to pretty party in a matter of seconds killing two birds with one stone.
The GEOX Savage range, built with style, comfort and resistance in mind, are perfect for younger boys and can really endure the rough and tumble they are faced with. These shoes are designed to resemble and act like a trainer, but built to fit like a shoe offering lasting comfort thanks to their iconic perforated and breathable sole that keeps feet dry at all times – a best seller here at Ogam Igam.
Another firm favourite with both girls and boys is the Clarks' Gloform range. A traditional, but stylish shoe that comes complete with a free Gloform toy – Mokomo, Hyso, Lysa and Gisili – to keep children occupied, and an innovative app to engage enquiring minds.
With most secondary schools, including local Penarth schools Stanwell and St. Cyres, requiring children to wear a much smarter shoe, we have a great range of smart lace-ups from the Start-Rite range, classic Brogues, slip-ons and ballet pumps, which are ideal for older children.
And if you're feeling really flush, why not take a look at our handmade Scandinavian range, Angulus, offering high-end quality with a distinctive look for the little princesses among us.
To see our full range of school shoes, including Lelli Kelly, GEOX, Clarks, Start-Rite, Primigi and Angulus, to name just a few, check out our website or visit us in store for a fitting. We have the styles, the widths, and the fitting experience – avoid the crowds and head over to Ogam Igam for the best in school shoes this year.